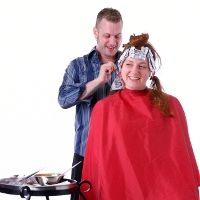 Update résumé. Write cover letter. Post résumé online. Apply for jobs. Wait to hear from potential employers. Repeat.
Such was the process back in the days when job seeking was a simple process -- simpler than it is now, anyway. Unfortunately, in today's ultracompetitive job market, job seekers can't afford to be ordinary. As a result, they are turning to untraditional methods of job searching. Betsy Richards, director of career resources at Kaplan University, an online university, says it's important for job seekers to realize that they shouldn't be using one method or the other but rather, they should use the two strategies together.
"In today's market, you need to reach out to people who could give you access to new networks and employment communities outside of your field and your normal work group," Richards says. "Even effective job seekers may have exhausted their network and have to expand it. It could mean the difference between a successful and unsuccessful job search."
Many job candidates are finding their job searches are taking longer than expected, Richards says. In fact, 70 percent of job searches last four weeks or longer, according to a recent study by CareerBuilder.com. For these people, traditional strategies won't cut it.
"You have to use every strategy that is at your disposal. Each person has to find tactics that are a fit for them," Richards says.
Some job seekers, however, are afraid to step out of their comfort zones to do something different to attract an employer's attention. They're afraid cold-calling a company or standing on the street wearing their résumé as a billboard will be too bold and turn employers away.
"You can never be too bold. If you are not bold, you won't get the contact and you won't be taken seriously," Richards says. "Some people walk a fine line between being bold and being obnoxious. For most people, the real issue is that they are shy or uncomfortable. However, some might misconstrue a low-key approach as laziness."
For job seekers who have struck out with the traditional routes to find employment, it's time to take the job search to the streets and use creative ways to get noticed. Here are five nonprofessional places and events to consider as career opportunities, according to Richards:
1. Sporting events. Schmoozing with fellow alumni in a relaxed atmosphere can be a great career move. "At a [Miami] Dolphins football game just last week, a fellow I was sitting next to struck up a conversation with me and introduced himself. This led to a discussion about what each of us did for a living and he let me know that he was looking for a new job. Little did he know that I advised professionals on their career advancement and could help him plot his strategy," Richards says.
2. Social networking sites. Each day, millions of people make connections through Facebook, MySpace, BrightFuse and LinkedIn. Consider sending out a note to your "friends" and "connections" about your job search. "Job seekers should reach out to their own network to be sure friends and colleagues know what you are looking for [in a job]," Richards says. "You have to research the people in the network and the companies and organizations they are affiliated with. Then, you have to actively ask your contacts to introduce you to the others and follow through."
3. Local farmers markets. These community hubs are great places to trade information and chat it up. "You never know who is picking out peaches next to you! The same is true at the grocery store," Richards says. "These are relaxed environments where job seekers can strike up a conversation with another shopper by talking about their favorite types of apples or kicking around ideas for recipes and preparation. All of this can lead up to an introduction and sharing your career status and experience."
4. Conferences not related to your expertise. For service professionals, attending industry events and seminars that attract experts outside of your traditional industry or peer group is a good way to regenerate your network. "There are a lot of career changers out there. One approach for those seeking to move into a new industry is to attend a conference focused on that professional arena," Richards suggests. "To start building this new network, you may attend conferences about topics outside of your field. Building a new network of contacts and meeting professionals with different networks is important."
5. Nail salon, hairdresser, local restaurants or the gym. The places we frequent can be an oversight when it comes to the job search. The opportunities to strike up conversations with people you are already familiar with could be a breeding ground for job opportunities. "The person providing services to you at a salon comes in contact with lots of people who share their personal information," Richards says. "Lots of clients will express frustrations and be very open. While you are in the chair, the situation may even inspire a conversation with the person next to you."
Here are four ways Richards says you can pitch yourself to prospective network contacts when in nonprofessional situations.
1. Prepare an "elevator speech" of three to four sentences that introduces your most marketable skills. Keep it succinct at no more than 20 seconds.
2. When networking, introduce yourself and ask the people what they do for work. After they tell you, you have the opportunity to let them know that you are searching for a job. Explain what type of position fits your particular background. You should ask if they have heard of anything that could be a match for your skills.
3. Always carry business cards no matter what the circumstance. Keep them in your wallet, handbag or cardholder at all times.
4. Make sure your résumé and/or bio and cover letter are prepared so you can quickly send out the information if a contact is made.