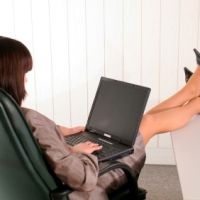 Woody Allen once said, "80 percent of success is showing up." On the other hand, that other 20 percent can make or break your career.
This is particularly true during downtimes. All year, we battle to create time. But what happens when our workloads dwindle? Too often, we use that time to surf, grab long lunches or gab with our peers.
There's nothing wrong with slowing the pace at times, but downtime is more than looking busy and slipping out early. It is a time to reflect, plan and position yourself to get ahead. To get the most from the slow times, consider the following:
ImagineAs children, we were warned about daydreaming. Our elders feared we'd miss something. In reality, the dreamers are the ones who create lasting change and set themselves apart.
Become that dreamer. Look at your day-to-day routine. What takes up your time, produces bottlenecks and redundancies, and stymies your morale, objectives and growth? Too often, we simply accept the status quo. It saves us from questioning our assumptions and effectiveness. Challenge this and rewrite the rules. Use your downtime to evaluate, test and implement solutions.
Don't forget the big picture. Think about emerging social and management trends (and the undercurrents driving them). How can you apply them to your operations, product development and branding? Focus on areas that can make your organization measurably more efficient and competitive.
Bottom line: Downtime is your chance to leave a mark -- and make a name for yourself. Take advantage of it.
Grow professionallyIn business, you adapt or starve. Your career is no different. Look at downtime as a chance to invest in yourself.
For example, enroll in your company's training programs, whether they're live, online or in audio sessions. Identify books or magazines that will deepen your perspective, creativity and motivation. Attend a course or seminar to stay current with industry developments and best practices. Capitalize on any little edge.
Similarly, visualize where you ultimately want to go in your career. Take an inventory of your skills and experience; identify where you fall short. From there, look for ways to fill the gaps. Shadow a peer holding the position you covet. Cultivate a mentor to keep you on track. Keep your résumé up-to-date -- you never know when opportunity will knock. There's a big difference between activity and productivity. Put a plan in place.
OrganizeClutter kills. Look at your electronic and paper filing systems. Is everything logical and easily accessible? Even more, think about your expected workload. You will always juggle various priorities. However, are there any steps or projects where you can get ahead? Such diligence will only save precious time, energy and focus later.
Participate in team buildingYou spend eight or more hours with your peers every day. That doesn't mean you truly know, trust or respect each other. Maybe you need something extra to pull you together. Consider taking a few days for team building activities, such as scavenger hunts or Outward Bound challenges. Use this time to foster those relationships and informal networks you'll need during the hectic times.
Complete long-term projectsWe all have a pet project that we tinker with sometimes. Why not use your downtime to finish it? Collect all your thoughts. Align your effort with larger organizational goals. Develop a step-by-step plan, replete with deliverables, benchmarks and deadlines. Afterwards, don't forget to publicize how your effort increased revenue, efficiency or customer satisfaction.
Similarly, seek out opportunities to market yourself internally. Conduct a presentation to raise your profile. Propose initiatives requiring collaboration with other departments to help you network (and pad your résumé). Most important, recognize those areas where your employer has a knowledge or skills gap. Commit yourself to filling it. It can only enhance your job security later.
Say 'thank you'Whether you work in the corner office or on the front line, gratitude is becoming a lost art. Too often, we are just too busy to give a heartfelt "thank you." Downtime allows us to do just that. Send a handwritten note to your customers or stakeholders expressing your appreciation. Make follow-up calls -- not sales calls -- to gauge the relationship and patch up any problems.
RelaxYou have been worn down by shifting priorities and strange hours. Take a break ... you've earned it. Recharge by taking a long weekend, exercising or just vegging out. Gather your strength and refresh your attitude. Downtime only lasts so long. Make the most of it.